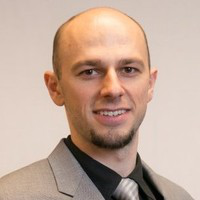 Yuriy Buha
Old Bridge, New Jersey, United States, United States
Summary
Yuriy Buha is a highly experienced professional with a strong background in project management, system analysis and design, web development, user documentation, computer repair, data recovery, networking, and remote assistance. He holds a Bachelor's Degree in Information Systems from the University of Maryland Baltimore County and has also studied programming and internet technology at Wor-Wic Community College.
Yuriy has worked for several distinguished organizations, including Cigna, Accenture, MOS Creative, and ExpressOC, where his roles have ranged from Infrastructure Engineer Senior Advisor to Computer Repair Technician. He is a skilled Web Developer, proficient in HTML/CSS, AngularJS, JavaScript, JQuery, PHP, and MySQL and has experience in providing user support in various technical settings.
In addition to his professional expertise, Yuriy is an advocate for a healthy lifestyle and actively engages in physical activities such as Aikido, snowboarding, skiing, volleyball, tennis, kayaking, rafting, and camping. Yuriy's optimistic outlook and energetic approach make him a valuable asset to any team.
Info
This public profile is provided courtesy of Clay. All information found here is in the public domain.