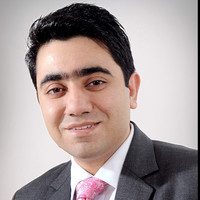 Sumit Gupta
New Delhi, Delhi, India
Summary
Sumit Gupta is an accomplished finance professional with a background in banking, corporate finance, and law. He studied at The Institute Of Chartered Accountants Of India and Shaheed Bhagat Singh College. Gupta has held various leadership positions at Citigroup including Senior Vice President Operations, Vice President, and Assistant Vice President. He also brings experience from his previous role as an associate at Pwc.
Currently, Gupta works at Udaan.com as part of the credit team. He is dedicated to leveraging his expertise to facilitate the company's growth and success. Gupta's impressive resume showcases his strong analytical and organizational skills that have been honed over years of experience in the finance industry.
Info
This public profile is provided courtesy of Clay. All information found here is in the public domain.