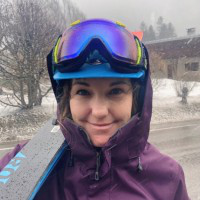 Kat Dykes
San Francisco, California, United States
Summary
Kat Dykes is a talented interaction and conversational user experience designer with extensive experience in developing successful e-commerce, enterprise, and mobile products. She has worked with some of the world's leading companies, such as Levi's, Charles Schwab, Blue Bottle Coffee, Kohler, Crocs, and Foster Farms, among others. Kat has a Bachelor of Business Administration with a focus on Marketing from the University of Colorado Boulder - Leeds School of Business, and she has also studied Kenyan Coastal Studies at the School for International Training and User Experience Design at General Assembly.
With a strong background in design thinking, systems thinking, messaging, conversational design, and design for AI and machine learning, Kat has a proven track record of delivering user-focused design solutions that meet the needs of businesses and customers alike. She is also skilled in visual design, brand strategy, identity, and positioning, presentations and communication, and scalable team organization and building.
Kat's specialties also include creative team management, product, and business strategy. She has held various positions throughout her career, including Head of Design at Trakabee, Senior User Experience Designer at Asurion, UX/UI Product Designer (contract) at Levi Strauss & Co., UX Interaction Designer (contract) at Charles Schwab, UX Designer (contract) at Blue Bottle Coffee, UX Designer (contract) at Wells Fargo, UX/Marketing Director (contract) at EnChroma, and UX/Marketing Director at FINIS Inc., among others.
Kat Dykes' portfolio is available at http://www.katdykes.com/.
Info
This public profile is provided courtesy of Clay. All information found here is in the public domain.