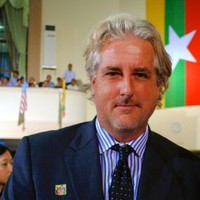 James Boyce
County Dublin, Ireland, Ireland
Summary
James Boyce is a seasoned marketer, digital strategist, and entrepreneur known for his work with progressive organizations and initiatives in the United States and Africa. With over two decades of experience in the digital marketing and advertising space, Boyce has worked with some notable brands and clients, including Slingshot, Product (RED), and the Huffing Post. James left the agency world in 2003 to become an unpaid Senior Advisor to John Kerry's Presidential Campaign where he raised over $10 million for the campaign. He founded Common Sense, an agency that helps progressive candidates, organizations, and companies understand and maximize emerging new media opportunities. James is also especially proud of his and his agency's work with (RED), which raised over $200 million using online tools to fight AIDS. A graduate of Duke University, James had his first encounter with Africa as an exchange student at the University of Zimbabwe and the University of Botswana. He founded Africa New Media Group, Inc, which is currently relocating its headquarters to Dublin, Ireland.
Highlights
Jul 9 · Via The Monthly
Info
This public profile is provided courtesy of Clay. All information found here is in the public domain.