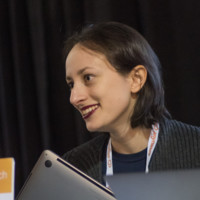 Isobel 🕴 Redelmeier
San Francisco, California, United States
Summary
Isobel Redelmeier is a professional with a diverse background in both Computer Science and Political Science. She earned her Bachelor of Arts degree in Political Science and Philosophy at Tufts University, and later returned to complete a Post-baccalaureate in Computer Science. Throughout her career, she has worked as a Software Engineer at various companies such as Pivotal Software, Inc., Flux.io, Pivotal Labs, and LightStep. She is currently employed as a Site Reliability Engineer at Discord, where she is responsible for ensuring the platform's reliability and availability.
Aside from her work in the tech industry, Redelmeier has also worked as a Teaching Assistant at Tufts University and as an Intern in the Office of Senator Spilka at the Massachusetts State Senate. She is passionate about open source software and has contributed to various projects within that community. Her experiences in both the public and private sectors have given her a unique perspective on the intersection of technology and policy.
Info
This public profile is provided courtesy of Clay. All information found here is in the public domain.