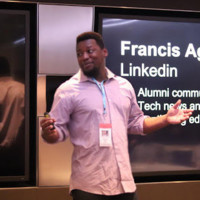 Francis Agbodji
New York, New York, United States
Summary
Frank Agbodji is a skilled Senior Data Engineer with experience in the hospitality, technology, and consulting industries. He has worked with Fortune 500 companies on digital transformation projects, using his expertise in data engineering, data science, software development, and design principles. Frank is proficient in a variety of programming languages such as Python, Java, and JavaScript, and has experience working with AWS, SQL, NoSQL, Oracle DB, Hadoop, MapReduce, and Spark. He has also taught Data Analytics & Visualizations as an Adjunct Assistant Professor at Columbia University and served as a Junior Board Member for the New York Tech Talent Pipeline.
Frank holds a Bachelor of Business Administration degree from Howard University and completed additional studies in Data Science, Data Engineering, and Full Stack Web Development. He has worked as a Senior Data Engineer at Publicis Sapient, a Data Engineer at Cognizant, and a Junior Front-End Developer at Huge, among other positions. Frank also founded dMADsDESIGN and served as the Principal Designer at AGBO + Digital.
With extensive experience in big data, ETL, data warehousing, software development, and digital transformation, Frank is a valuable asset to any team seeking a skilled and knowledgeable Senior Data Engineer.
Info
This public profile is provided courtesy of Clay. All information found here is in the public domain.