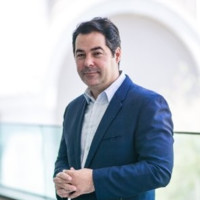 Edmar Moraes
Greater São Paulo Area, Brazil
Summary
Edmar Moraes is a seasoned Sales and Business Development Executive with a wealth of experience in the Latin America and IBERIA markets. With over 20 years in the Video/Telco and Entertainment industries, Mr. Moraes has a proven track record of developing innovative strategies that ignite corporate growth. As a Director and Board Member, he is recognized for his dynamic leadership in transforming corporations from market introduction to millions in revenue. Throughout his career, Mr. Moraes has successfully sold and delivered hundreds of complex projects in more than 20 countries worldwide, including Brazil, Mexico, Canada, USA, Argentina, Portugal, Spain, Switzerland, and Italy.
A trilingual professional, Mr. Moraes is fluent in English, Spanish, and Portuguese and has unique expertise in End-to-End (turn key) solutions and specific components from different stakeholders. He has led transformations from legacy to high-end technologies in the largest Media and Service Providers in the region. His business development contributions include the deployment of solutions currently installed in more than 40 Million homes, Pre-Sales and Sales around LATAM to make possible IPTV, MobTV, Cable, DTH, ClouDVR, in open standard tech, and projects of Digital TV, CloudTV and Streaming, MobTV in Switzerland (SwissCom), Canada (Bell ExpressVU), Italy (Vodafone), Chile (GTD), Peru (Telefonica), Mexico (TVAzteca), Central America, and Brazil (Claro, Oi, Telefonica, Sky, WatchTV, UOL Play).
Mr. Moraes' education includes a Bachelor of Business Administration (B.B.A.), Marketing from FIT-Business School and a Master, CEAG-SI Business Administration from FGV-Fundação Getulio Vargas. He has also studied Technical, IT-Data Processing at Colegio Paralelo and English at LSI-Toronto and LSI-Berkeley-US.
As a leader, Mr. Moraes is goal-oriented and skilled in strategic planning, execution, and controlling of tech and commercial activities, defining products and services in short and long terms. He has vast experience in IT management and applies the right tools according to the company's objectives. His process optimization skills reduce cost, and he develops suppliers and negotiates with customers. Mr. Moraes is knowledgeable in integrated systems implementation, such as ERP, CRM, SCM, BI, and Data Mining, for companies changing to the process system or transformation phase. He forms strategic alliances with suppliers to enhance products and services to target profitable and differential results.
In addition to his professional career, Mr. Moraes is a founder and idealizer at ilhahub de inovação, an angel investor at Angel Investor Club, and a former instructional facilitator at Gerando Falcões. He was also a former Director of Business Development and Partnership at Abott's, Executive Board Member at MuitoBonsVentos, Futura Produções, Senior Director, Sales Latin America & Caribbean at SES Satellites, Latin America Sales Director at Synamedia, Head of Sales Americas Media and Entertainment at Kaltura, Managing Director Latin America at Kaltura, Head of Sales and Operations - Country Manager Brazil at Kaltura, Senior Business Development Manager at Cisco, and Program Manager at Nagra. Mr. Moraes began his career in the IT sector, serving as a Customer Services and System Engineer at Nagra and Support Manager at GlobalNet before moving onto IT Coordination at Pizza Hut-Pepsico Group.
Info
This public profile is provided courtesy of Clay. All information found here is in the public domain.