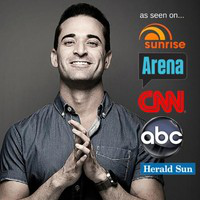 Ben Angel
Hollywood, Florida, United States
Summary
Ben Angel is an accomplished author, business and lifestyle columnist, and marketing specialist renowned for his expertise in personal branding. He is an international speaker with a magnetic personality and has presented to audiences of all sizes at events held by Toyota, Australia Post, Australian Institute of Company Directors, Action International, and Energise Enterprise Business Festival.
Angel has helped countless businesses, companies, entrepreneurs, and speakers boost their profiles and get major publicity, turning their fortunes around quickly with his marketing skills. He is known for assisting individuals in generating massive profits through social media, building an authoritative personal brand that captivates audiences worldwide.
Angel's YouTube channel boasts over 100,000 views, and he is the host of Agent of Influence Online Series. He has authored several best-selling books such as "Sleeping Your Way to The Top in Business" and "CLICK - Finding The Moment When Everything Falls Into Place," as well as his latest book, "Flee 9 to 5," published by Wiley.
Angel has helped his clients secure media attention internationally, appearing on major platforms such as Vogue, The Huffington Post, Cleo, CNN, BBC, and countless newspapers, TV shows, blogs, and radio stations worldwide. He has a massive following of over 50,000 people, and he teaches entrepreneurs, companies, and authors how to become more attractive to their target market and media using networking skills, dressing to influence, and energetic engagement.
Info
This public profile is provided courtesy of Clay. All information found here is in the public domain.