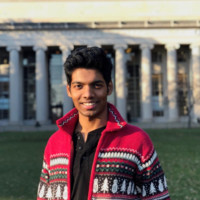 Ayush Sharma
San Francisco, California, United States
Summary
Ayush Sharma is an accomplished software engineer and machine learning expert. He received his Bachelor's and Master's degrees in Computer Science and Systems and Machine Learning, respectively, from Massachusetts Institute of Technology. Sharma has worked as a Software Engineer on Core Machine Learning at Yelp and has previously interned as a Software Engineer and Machine Learning specialist at Yelp, Klarity, and HeartFlow. Additionally, he was an Undergraduate Researcher at Massachusetts Institute of Technology.
Sharma has an extensive background in computer science, software engineering, and machine learning. He has founded the Summer Science Program Initiative and participated in the Yale Young Global Scholars: Science, Innovation and Policy at Yale University.
Info
This public profile is provided courtesy of Clay. All information found here is in the public domain.