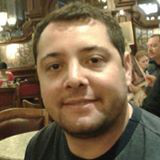 Arthur Pingret
Niterói, Rio De Janeiro, Brazil
Summary
Arthur Pingret is a highly qualified finance manager with extensive experience in financial management, cash flow routines, planning, and controlling financial data efficiently. Arthur has a degree in economics and finance from the University of Federal Fluminense and a Master of Business Administration in Corporate Finance from the University Candido Mendes.
Additionally, Arthur has more than a decade of experience coordinating, planning, and control activities in various areas, including human resources, financial resources, administration, and structuring. Arthur has worked with businesses such as OdontoCompany, RHMED Consultores Associados, Grupo Samfer, and The British School, Rio de Janeiro.
Arthur's expertise ranges from managing accounts payable and receivable, bank reconciliation, invoicing, cost control for public accounts, producing management reports, analyzing investment and risks. Arthur is knowledgeable in the TOTVS software, the HP12c calculator, and has experience in SISCOMEX and export-related documents.
Arthur's experience also involves managing the implementation of career plans and benefits programs, in addition to collaborating in the selection and recruitment of employees.
Info
This public profile is provided courtesy of Clay. All information found here is in the public domain.