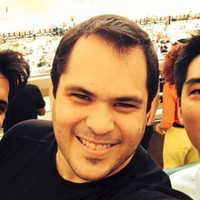 Andre Ventura, CFA
Rio De Janeiro, Rio De Janeiro, Brazil
Summary
Meet Andre Ventura, CFA, a seasoned professional with a diverse set of experiences that have molded him into an accomplished CFO at Descomplica. He began his academic pursuits by studying a Bachelor's degree in Aeronautical Engineering from the prestigious Instituto Tecnológico de Aeronáutica - ITA. After finishing his degree, he took up different roles in a variety of organizations, honing his skills while carving a niche for himself in the industry.
He co-founded and co-managed Murano Investimentos before working at Polo Capital Management as a fund manager and as a quantitative analyst at Klig Capital. Further adding to his achievements, he also interned as Women's Health Worldwide Operations Intern at Johnson & Johnson. His numerous accomplishments throughout his professional journey speaks volumes about his skillset.
Currently, Ventura is responsible for managing the financial operations of Descomplica, enabling the firm to expand its reach and grow its user base. His ability to perform exceptionally well in high-pressure situations and create value has made him an asset to the organization.
Info
This public profile is provided courtesy of Clay. All information found here is in the public domain.