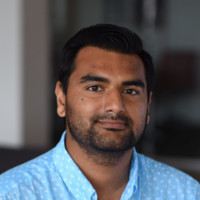 Vipin Shri
New York, New York, United States, United States
Summary
Vipin Shri is an accomplished marketing professional and entrepreneur with a passion for technology and collaboration. He earned a BA in Economics from The University of Connecticut and has since had a successful career in marketing leadership roles at multiple technology startups. Vipin's determination and flexibility in a constantly changing market make him an asset to any team.
Vipin's career includes positions as Director of Growth at Amplify Life Insurance, Senior Marketing Manager at RapidRatings, Senior Manager, Demand Generation at Dataminr, and Senior Lead, Content Marketing at WeWork. Throughout his various roles, Vipin has demonstrated his ability to shift priorities and attention to complete tasks effectively.
In addition to his corporate work, Vipin has a history of giving back and volunteering, including his role as the William J. Clinton Fellow at American India Foundation. He is a people person who values connection and collaboration, both personally and professionally. Vipin is open to new acquaintances and enjoys discussing technology, entrepreneurial ventures, and topics with a horsepower rating.
Info
This public profile is provided courtesy of Clay. All information found here is in the public domain.