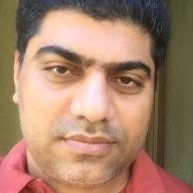 Vijay Donthireddy
San Ramon, California, United States
Summary
Vijay Donthireddy is an experienced cloud architect who specializes in AWS and Azure. He is skilled in enterprise architecture, Microservices, Python, Java, and Microsoft Technologies. Vijay has a strong background in IIoT, Predix, GIS, Cloud-based applications, and high-level application design and implementation.
Vijay received his education at Osmania University and has worked for various organizations throughout his career, including ServiceChannel, GE Digital, Workers' Compensation Insurance Rating Bureau (WCIRB), SAP Labs, Intel Corporation, Elation Systems, Inc., TRS Consultants, Inc., and Frontier Information Technologies Ltd (USA and India).
He has held positions such as Principal Architect, Sr. Staff Architect, Lead Software Engineer, Senior Enterprise Architect, Technical Consultant, and IT Leader. Vijay's diverse experience in the software industry has made him a valuable asset to any project.
Info
This public profile is provided courtesy of Clay. All information found here is in the public domain.