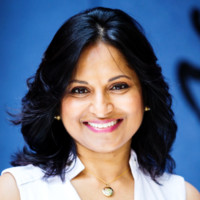 Swarna Kuruganti
New York, New York, United States
Summary
Swarna Kuruganti is a highly experienced Senior Director specialized in technology-enabled transformations, intelligent automation, and shared services. With a proven track record of successfully leading and driving business model transformations and process optimizations, Swarna has held executive positions at prominent organizations such as Genpact, PwC, and Anheuser-Busch InBev.
Swarna's expertise spans across several global industries, including healthcare, utilities, finance, CPG, and entertainment companies. She has been recognized for her leadership skills, entrepreneurial drive, and exceptional client/customer focus.
Swarna's impressive educational background includes her studies at Baylor University. In addition, she has been a program Co-Chair for "Automation and Robotics" at the Tulip Conference, a contributing writer at Thrive Global, and an Intelligent Automation Consultant at Skyshine LLC. Swarna has also founded clearScoop and WellWatch.
In summary, Swarna Kuruganti is a dynamic Senior Director who is passionate about driving technological and operational transformations across diverse industries.
Info
This public profile is provided courtesy of Clay. All information found here is in the public domain.