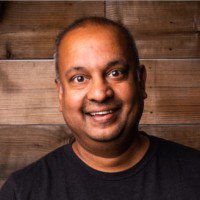 Suresh Venkatraman
Palo Alto, California, United States
Summary
Suresh Venkatraman is an accomplished computer engineer and software architect with an impressive career spanning various industries. He is a graduate of the University of Michigan, where he studied BSE in Computer Engineering. Venkatraman is the Co-Founder and CTO of Solid, a technology company. Before co-founding Solid, Venkatraman was the Head of iOS Development at Mojio, a consulting software architect specializing in the automotive industry at Telenav, and the Founder and CTO of Reposit, PacketFrame, and Plusmo.
Over the years, Venkatraman has worked at various esteemed organizations such as AT&T, Microsoft, Cadence Design Systems, and Digital Equipment Corporation, gaining invaluable experience that has honed his professional expertise. He is well-versed in the development of local search applications, platforms, and apps, which are among his core interests. Venkatraman has also been instrumental in the growth and progress of young technology startups.
Info
This public profile is provided courtesy of Clay. All information found here is in the public domain.