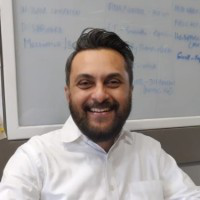 sumeet chatterjee
Mumbai, Maharashtra, India, India
Summary
Sumeet Chatterjee, a well-known Corporate Communication specialist, has an impressive track record of excelling in his field. He has a sharp understanding of the building blocks of communication, including media relations, crisis management, internal communication, and digital marketing. His expertise comes from leading the Group Corporate Communication function at RPG Group, a large global diversified conglomerate with interests in Automotive Tyre, Infrastructure & Energy, Information Technology, Pharmaceuticals, and Plantations. Reporting directly to the Chairman of the Group, Chatterjee has been incredibly effective at his job, developing marketing campaigns for Pepsi, Hero Cycles, Bajaj Auto, Pond's, and ICICI Bank.
Aside from his work, Chatterjee also serves on the Board of The Minds Foundation, India, founded by Dr. Raghu Appasani, MD-Psychiatry, University of Massachusetts, Boston. The foundation works in the area of mental health. The Times of India, Firstpost, and Hindu Business Line have published his authored articles under his byline. His interests include music, movies, running, and he is also a newbie in paragliding.
Chatterjee's educational background is also impressive, having studied Sustainability Studies at Swedish Institute A College Of Health Sciences. He also completed his Master Of Business Administration at Institute Of Management Education and his Bachelor Of Arts In Economics at Fergusson College.
Throughout his career, Chatterjee has built excellent personal relationships with senior editors in media, the leadership in industry bodies - FICCI and CII, and high-level stakeholders across industry types – MNC and Indian-owned.
Info
This public profile is provided courtesy of Clay. All information found here is in the public domain.