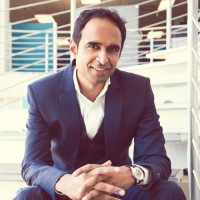 Sudhish Mohan
Johannesburg Metropolitan Area, Other
Summary
Sudhish Mohan is an accomplished business leader and board member who has worked in various industries, including telecommunications, mining, oil and gas, financial services, and data analytics. He has a particular interest in technology transformation and enjoys applying startup mentality to solve complex business challenges. Sudhish is highly skilled in driving large-scale digital transformations across multiple industries, with a particular interest in the intersection of business and technology.
Sudhish Mohan has studied a specialization in CIO at the University of Oxford - Said Business School, as well as digital strategies at Columbia Business School and Artificial intelligence at Udacity. He has also received certifications in Design thinking from the Massachusetts Institute of Technology. His professional resume boasts positions such as Chief Digital & Customer Success Officer at Microsoft, Board Member at TransUnion, VP Strategic Operations at TransUnion, and Interim Chief Information Officer at Sasol.
Highlights

Jul 9 · Via ITWeb
Jul 1 · Via IT News Africa
Info
This public profile is provided courtesy of Clay. All information found here is in the public domain.