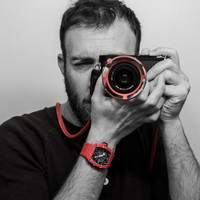 Steve Hallock
Los Angeles, California, United States
Summary
Steve Hallock is a well-established name in the high-end watch industry. He has an impressive background that includes a Bachelor's degree in finance from the University of Maryland. Steve's passion for cars, design, art, architecture, and gadgets led him to his first love – watches. He started in technology but later transitioned to work in the watch industry for over a decade.
Steve's contribution to the industry includes running one of the largest online forums for watch enthusiasts, leading MB&F North America as its President, and connecting private sellers and buyers for acquiring the "good stuff." His vast experience in the industry and his passion for art and design have helped him develop a good taste, which guides him to help collectors find the perfect timepiece they desire.
Because of his extensive experience in the luxury watch industry, Steve Hallock has been featured in prestigious magazines, including Forbes, Esquire, and Worth, and online media outlets, like Hodinkee and TechCrunch. Steve has founded TickTocking and held various other positions throughout his career, including President/Managing Member at Atlas Partners, Executive staff member and moderator at PuristsPro, and Founder and Manager at Century Pacific.
Info
This public profile is provided courtesy of Clay. All information found here is in the public domain.