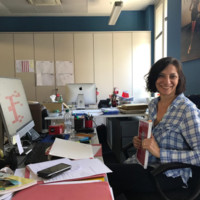 Silvana Sacchetti
Milan, Lombardy, Italy
Summary
Silvana Sacchetti is an accomplished journalist with years of experience in the media industry. She is currently serving as the assistant director of editorial operations for GQ at Edizioni Condé Nast, a fashion and lifestyle magazine. Previously, she held a similar role at AD, another publication by Edizioni Condé Nast. In her earlier days, she worked in various administrative positions within the same company, including events office secretary, editorial office secretary, and editorial secretary.
Silvana's experience has equipped her with a diverse skill set that includes proficient communication skills, project management, and coordination between departments. Her work in editorial administration involved managing the schedules and calendars of several departments, organizing events, answering correspondence, and dispatching emails to the relevant parties. These responsibilities have made her an adept multitasker capable of handling multiple demands with ease.
Silvana's extensive experience in editorial administration has allowed her to hone her collaborative and team-management skills. As a member of a large organization, she has worked on cross-functional teams to accomplish various objectives, such as launching events, meeting publishing schedules, and working with advertisers.
As a journalist with a background in administrative operations, Silvana's unique perspective allows her to approach her work with a meticulous and detail-oriented mindset. She is skilled in the art of prioritizing tasks and managing tight deadlines, which is an essential skill for a journalist.
Overall, Silvana Sacchetti is an accomplished journalist and editor with a wealth of experience in editorial administration. Her excellent communication and coordination skills make her a valuable asset in the media industry.
Info
This public profile is provided courtesy of Clay. All information found here is in the public domain.