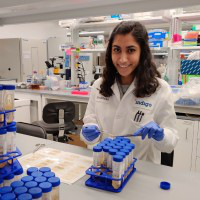 Shruti Parikh
Davis, California, United States
Summary
Shruti Parikh is a microbologist with a diverse background. She has a Bachelor of Science and Bachelor of Arts with Honors in Environmental Science and Environmental Studies from the University of Washington. Parikh continued her education and earned a PhD in Microbiology from the University of California, Davis. Throughout her education, she gained experience through internships, research positions, and even worked as a sales associate for the Seattle Seahawks.
After completing her PhD, Parikh worked as a Research Associate for Indigo, where she conducted research in the field of agriculture. She was responsible for designing and executing experiments, collecting and analyzing data, and presenting her findings to her team.
In addition to her research experience, Parikh also served as a CoMotion Mary Gates Innovation Intern at the University of Washington, where she worked on a project to develop a cleaner and more efficient way to harvest algae.
Overall, Parikh's expertise lies in microbiology and environmental science, and she has experience in research, data analysis, and project management.
Info
This public profile is provided courtesy of Clay. All information found here is in the public domain.