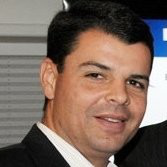 Rubem Amarante
Rio De Janeiro, Rio De Janeiro, Brazil
Summary
Rubem Amarante is an experienced CEO and business leader with a strong background in finance, IT, and digital media. He holds an MBA in Finance from Ibmec and has studied Business Administration and IT at leading Brazilian universities. With over 20 years of professional experience in various industries, Rubem has excelled in senior management roles at major companies such as EMBRATEL and Motorola.
Most recently, Rubem has been serving as the CEO of Wide Digital, a digital media company that specializes in digital signage and corporate TV. Prior to this, he held senior roles at Grupo Evolve Digital Signage e TV Corporativa and ELEMIDIA - RJ. In these positions, he demonstrated a keen understanding of client needs and delivered innovative digital solutions that drove business growth.
Rubem's expertise in finance, IT, and digital media has enabled him to excel in a variety of industries and positions. His leadership skills, strategic thinking, and ability to innovate make him a valuable asset to any organization.
Info
This public profile is provided courtesy of Clay. All information found here is in the public domain.