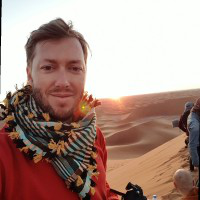 Nelson Rocha
Porto, Porto, Portugal, Portugal
Summary
Nelson Rocha is an experienced video producer with 18 years of involvement in major world sports events. He started as a camera operator for news and sport news, then branched out as a broadcast camera operator, video editor, and director for top TV channels. Over the years, he has worked with clients such as Eurosport, Al Jazeera, Euronews, beIN Sports, RTP, TVI, and more. His experiences have led him to immerse in various cultures, which he finds to be a great honor.
Aside from his work experience, Nelson also studied post-graduation management at Anje, sales workshop at Paulo de Vilhena, internship on cinema, TV, and video at Douro Film Productions Ltd, and entrepreneurship at Instituto Universitário da Maia - ISMAI. In his current role as Video Producer at Wip Produções, Nelson continues to offer his exceptional skills with his vast knowledge of video production.
Info
This public profile is provided courtesy of Clay. All information found here is in the public domain.