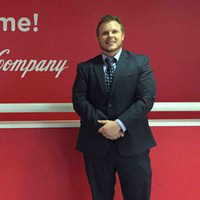 Nathan Cotkin
Saint Charles, Missouri, United States
Summary
Nathan Cotkin is an accomplished sales professional with extensive experience in the industry. He studied Marketing Management, with a minor in Advertising and Promotions at Missouri State University. Nathan has worked for various companies, including Stonhard, UBC Group USA, and S.M. Arnold, Inc. He served as both the President and Vice President of Kappa Alpha Order during his time at Missouri State University. Nathan has also worked as a Sales Associate at Wal-Mart and a Team Member at Pizza Hut.
With his diverse background, Nathan has honed his skills in sales and sales management, building client relationships, and creating effective marketing campaigns. In his most recent role as Territory Manager- North St. Louis at Stonhard, he continues to expand his expertise in the field. Nathan's unique experience in a variety of industries has allowed him to develop a comprehensive understanding of the sales process from start to finish.
Info
This public profile is provided courtesy of Clay. All information found here is in the public domain.