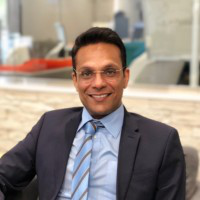 Naimish Shah
Summary
Naimish Shah is a highly accomplished executive with extensive experience in the banking and finance sectors. With a bachelor's degree in Electrical and Electronics Engineering from Pune University and additional qualifications in finance, data science, and fintech, he has an impressive combination of technical and business expertise.
Shah's professional journey includes key positions such as SVP of Digital Innovation, partnerships, and R&D at Emirates NBD, where he drives growth through collective intelligence, collaboration, and creativity. Prior to this role, he served as the SVP and Head of Cyber Security & Architecture at Emirates NBD and held leadership positions at Dubai Bank and Mashreq Bank. Early in his career, Shah began in telecoms as a Senior Communications Engineer at Reliance Industries, building a solid technical foundation he leverages in his current roles.
With expertise in areas such as IT infrastructure management, cybersecurity, digital innovation, and fintech, Shah is an authority in his field. He is passionate about driving growth, enhancing customer experience, and pushing the boundaries of innovation.
Info
This public profile is provided courtesy of Clay. All information found here is in the public domain.