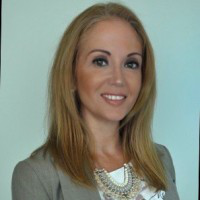 Mariela Lazaro
New York, New York, United States
Summary
Mariela Lazaro, an accomplished economist with an impressive educational background, holds a Master of Arts in International Economics from Fordham University, a Certificate in Management Practices from New York University, and a Licentiate in Economics from Universidad Nacional de La Plata. Currently, she is the Director and Head of Corporates-Global Transaction Banking, NA at Lloyds Bank.
Prior to her role at Lloyds Bank, Mariela worked as an Executive Director at Banco Santander, Vice President, Associate, and Analyst at BNP Paribas. Her extensive experience in the financial industry showcases her expertise in banking, specifically in global transactions, where she has developed strategic and sustainable solutions for clients.
Mariela's background reflects her dedication to the financial industry, and her time working for these well-known companies only attests to her expertise in the field. Her valuable skill set and exceptional leadership qualities will continue to propel her towards success as she contributes to the growth and development of Lloyds Bank.
Info
This public profile is provided courtesy of Clay. All information found here is in the public domain.