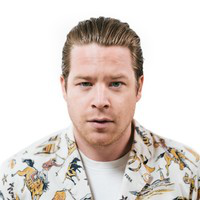 Lukas Nieuwenhuijsen
Amsterdam Area, Netherlands, Netherlands
Summary
Lukas Nieuwenhuijsen is a well-rounded professional with extensive experience in the creative and entertainment industries. Lukas has a degree in Media and Economics from Hogeschool Haarlem/Haarlem Business School. Lukas' expertise in entertainment marketing spans across numerous high-profile organizations, such as Nike, WeTransfer, Red Bull, and Diesel, where he worked as a Creative Producer, Art Buyer, A&R Manager, and Marketing Officer/Manager, respectively. Lukas was also a co-founder of Colors Amsterdam, Tony Player, and completed internships at Top-Notch Records and Magnetron Music. Lukas' skills and interests include curation, programming, art direction, creative writing, and communications. Lukas has an excellent track record of managing and collaborating with diverse teams of creatives and executing successful campaigns that resonate with global audiences.
Highlights
Oct 19 · Via CampaignLive
Jun 15 · Via Adweek
Info
This public profile is provided courtesy of Clay. All information found here is in the public domain.