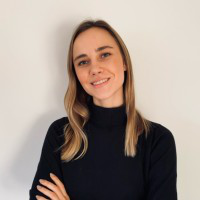 Luba Vyaznikova
Summary
Luba Vyaznikova is an accomplished Product Leader with significant experience in developing and launching successful products. She has an entrepreneurial mindset, uses data-driven decision-making approaches, and is knowledgeable about a wide range of products. Luba has experience working with top companies like Bumble, Badoo, and Yandex, and she was instrumental in the development of the Yandex.Transport app, a popular navigation tool in Eastern Europe. Her role at Bumble as Product Director involves developing and leading products that will be transformative in the dating industry.
Luba Vyaznikova is a Bachelor of Engineering graduate of Moscow State University of Transport (MIIT), and she also founded a social media time tracker startup, In Moment, which she successfully launched from scratch. Luba has worked for a variety of companies, including API.AI, NVision Group, and Yandex, where she served as a Product Manager. She also served as a Product Lead and Product Manager at Badoo, one of the biggest dating apps in the world. With her extensive experience in product management, Luba is skilled in designing and delivering products that meet the needs of users.
Info
This public profile is provided courtesy of Clay. All information found here is in the public domain.