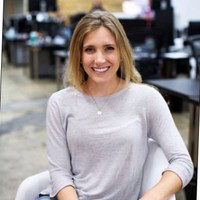 Kristen Larsen
San Francisco, California, United States
Summary
Kristen Larsen is a highly accomplished professional with a diverse background in biometrics, education, research, and business development. She graduated with a Bachelor's degree in Biomolecular Science with a Physical Therapy Concentration and went on to complete her Master's degree in Biomedical/Medical Engineering both at Clarkson University. Her experience includes roles such as the Director of Strategic Partnerships at Athos, Lead Applied Sports Scientist at Athos, Swim Coach at Presidio Masters, Sales Supervisor at ADInstruments, and Biomedical Sales Engineer at ADInstruments. Kristen has also worked as the American Reinvestment and Recovery Act Grant Leader at Clarkson University and as a Graduate Fellow at National Science Foundation (NSF). In addition, she has served as a Teaching Assistant at Clarkson University and a Swim Instructor at Boston University.
At Athos, Kristen supports product integration to elite sports teams and performance facilities. Additionally, she consults with sports performance and rehab professionals to unlock data-driven training decisions. Other skills include education sales, account management, and grant writing.
Info
This public profile is provided courtesy of Clay. All information found here is in the public domain.