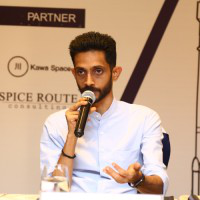 Kris Nair
New York, New York, United States, United States
Summary
Kris Nair is an accomplished entrepreneur in the space industry, known for his pioneering work in India's private space mission. With an educational background in physics and military training, Nair brings a diverse range of expertise to the table. His career has spanned multiple industries, including private equity, corporate development, and technology startups. However, it is his work at Kawa Space that has received the most attention in recent years. As the Founder and CEO of Kawa Space, Nair has embraced an interdisciplinary approach to solving complex problems. He blends technology, architecture, psychology, economics, and physics to develop novel solutions that are both innovative and practical.
Kris Nair's background and expertise make him an excellent resource for anyone interested in space exploration, technology startups, and interdisciplinary problem-solving. Whether you are a journalist looking to cover the latest developments in the space industry or an entrepreneur seeking to build a successful startup, Kris Nair's insights and expertise are sure to be invaluable.
Info
This public profile is provided courtesy of Clay. All information found here is in the public domain.