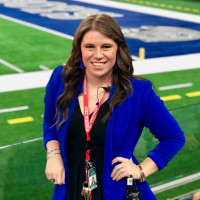 Kara Farris
Dallas, Texas, United States
Summary
Kara Farris is an accomplished operational manager with a knack for customer relationship management (CRM), media relations, and organizational leadership. With years of experience in the sports industry, Farris has worked her way up the ranks at Legends, where she currently serves as Operations Manager.
Farris got her start in event planning and catering at Legends, where she honed her skills in supply chain management, customer service, and logistics. She then took on the role of News/Public Relations Manager at the Baptist General Convention of Texas, where she was responsible for managing relationships with the media and promoting the organization's brand.
Farris has also worked as a marketing and management specialist at Moxie, a marketing and advertising firm in Arlington, Texas. In this role, she gained expertise in advertising, social media, and digital marketing.
Farris holds a Bachelor of Arts in Mass Communication from Stephen F. Austin State University, where she focused on journalism, advertising, public relations, and marketing. She also holds a Master of Business Administration in Leadership from Southern New Hampshire University.
Overall, Farris is a skilled operational manager with a track record of success in the sports industry, event planning, and marketing. She has strong leadership skills and is adept at managing relationships with clients, partners, and stakeholders.
Info
This public profile is provided courtesy of Clay. All information found here is in the public domain.