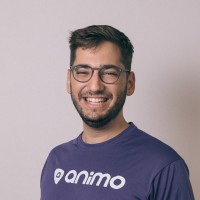 JONATHAN KORN
Sao Paulo, Sao Paulo, Brazil
Summary
Jonathan Korn is a seasoned entrepreneur and product expert with diverse experiences across multiple industries. He has held various positions in different companies, including being a Co-Founder, Product at Animo Wellness, a Global Development Experience Product Lead at VTEX The True Cloud Commerce Platform, and a Product Owner at PlayKids. He studied at the University of San Francisco for his Bachelor of Business Administration (BBA) in Business Administration and Management. Jonathan also had a stint at Stanford University, where he honed his skills further.
Korn has a proven track record of helping firms design and launch successful products for customers across different markets worldwide. As a former Growth consultant at Glio, Korn helped companies scale their revenue and expand their customer base. He was also a Strategic Partner Director at BriefCam Ltd., where he developed key partnership opportunities to help drive growth and revenue. Korn has worked in various capacities in different companies, and he continues to make his mark in the industry.
Info
This public profile is provided courtesy of Clay. All information found here is in the public domain.