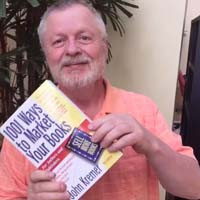 John Kremer
Taos, New Mexico, United States
Summary
John Kremer is a book marketing expert, speaker, consultant, and coach. With a robust background in the publishing industry, Kremer has helped numerous authors and publishers achieve bestseller status through his innovative strategies. Kremer is also well-versed in social media marketing and excels in creating Pinterest marketing programs that drive real results.
Kremer studied Anarchy at Macalester College, where he honed his critical thinking and problem-solving skills. He is currently the Book Marketing Director and Social Media Speaker at Open Horizons, where he shares his knowledge and expertise with aspiring authors and marketing professionals. Kremer has also worked as a Book Marketing Coach and Social Media Activist at Self-Growth.com and has served as the Owner and CEO of Open Horizons.
Through years of experience in the industry, Kremer has developed a deep understanding of the nuances of book marketing, publicity, direct marketing, pricing, and general planning for book publishers of all sizes as well as individual book authors. His book, 1001 Ways to Market Your Books, has helped numerous authors achieve bestseller status, including Jack Canfield and Mark Victor Hansen, authors of Chicken Soup for the Soul. Kremer also provided the strategy that took Deepak Chopra from a vanity press author to being on the New York Times bestseller list eight times.
Highlights
Apr 19 · Via Twitter
Patience is one of the greatest virtues. Step by step, leap by leap, we can do almost anything we set our minds to… https://t.co/MJ5ofHgDZL
Apr 11 · Via Twitter
We are here on Earth to fart around. Don't let anybody tell you any different. — Kurt Vonnegut, novelist
Info
This public profile is provided courtesy of Clay. All information found here is in the public domain.