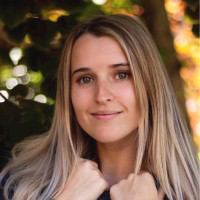 Georgia de Laine
Los Angeles Metropolitan Area, United States
Summary
Georgia de Laine is an accomplished Program Coordinator and Communications Undergraduate at UCLA. With six years of experience in customer service and various roles such as Manager at Rev'd Up Coffee and Classics, former Coordinator of the transfer mentorship program at UCLA, and Sales Associate at Tuesday morning - Georgia is a qualified candidate for positions in communications, higher education, sports entertainment, and related fields.
Armed with a wealth of skills in oral and written communication, budget management, hiring and training, oral presentations to crowds of 500 people, oriented social media strategies, and experience in program coordination, Georgia is seeking an internship, part-time, or full-time position within her field. Georgia is perusing her Bachelor's degree from the University of California, Los Angeles in Communication Studies and has already received an Associate's degree, Communication and Media Studies from Chaffey College to further bolster her qualifications.
Info
This public profile is provided courtesy of Clay. All information found here is in the public domain.