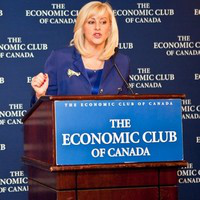 Dianne Carmichael
Toronto, Ontario, Canada
Summary
Meet Dianne Carmichael, a highly accomplished executive and innovator with over 25 years of experience in various industries. Her executive positions include multi-national, startup, and growth companies, and she has made a significant impact on Canadian healthcare.
Dianne's passion for patient advocacy stems from her father's cancer diagnosis in 2004, which caused a profound shift in her career trajectory. Since then, she has become a prominent figure in healthcare innovation and technology. Currently, she is the CEO of Carmichael Worldwide Inc., Chief Advisor of Health Tech at the Council of Canadian Innovators, and a Director at Patients Canada.
Before transitioning to healthcare leadership, Dianne founded and served as President of UHN Solutions, a healthcare innovation company. She also held several high-ranking executive positions in the financial industry, including Chairman & CEO of Worldsource Wealth Management subsidiary of Guardian Capital, Vice-President at TD Waterhouse, and Founder & President of an Investment Advisory Co.
Dianne's academic qualifications include a Bachelor of Arts degree from the University of Waterloo and a 3-year Business Administration/Marketing diploma from John Abbott College. She also holds a CSC (Honours), CPH, CIM1, PFP, Officers & Directors, Life Ins. Level2, Honours certification from the Canadian Securities Institute.
Dianne is a sought-after speaker, having lectured at McMaster University's DeGroote School of Business, CAPCH (Canadian Assoc.People Centred Health), Mt. Sinai's Personalized Medicine Institute, CEO groups TEC & IWF (International Women's Forum), and many other institutions. She has also been featured in numerous publications, including the Globe & Mail, BNN, Women's Post and Huffington Post.
Dianne's extensive knowledge in executive leadership, business strategy, branding, identity, public and media relations, government affairs, communications, change management, innovation, and commercialization make her an indispensable asset to any organization. Her many awards include being named among the Top 20 Business Women in Canada, Schulich Top 100 leaders, Women Changing HC, and WXN Most Powerful Women.
If you need a leader who can take your organization to the next level, look no further than Dianne Carmichael. For more information, visit her website at www.diannecarmichael.com.
Info
This public profile is provided courtesy of Clay. All information found here is in the public domain.