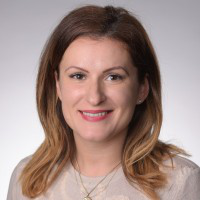 Daria Istrate
San Francisco, California, United States
Summary
Daria Istrate is a healthcare leader who is passionate about making a positive impact on the world. With an extensive educational background that includes studying at prestigious universities such as Harvard Business School, Stanford University, and the Academia de Studii Economice din București, Daria has honed her skills and expertise in various areas of the healthcare industry.
Daria has worked in several organizations throughout her career, with roles in marketing/strategy, Hematology Oncology at Genentech and as a Venture Fellow at Yard Ventures. She also co-founded Dariana School where she served as a leader and worked with others to bring life-changing science to patients. Her expertise extends beyond her work in the healthcare industry as she was a Teaching Faculty at Center for Asia Leadership, Consultant at World Food Programme, and Senior Consultant at Roland Berger.
Daria has an impressive record of working on new product development at Novartis, Diagnostic Imaging and Medical Device at World Health Organization, and as a Senior Consultant at IMS Health. She is dedicated to bringing innovative solutions that address healthcare issues and has devoted her career to creating social impact across the globe.
Info
This public profile is provided courtesy of Clay. All information found here is in the public domain.