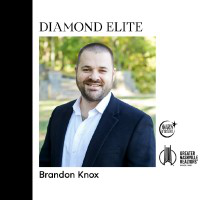 Brandon Knox
Greater Nashville Area, TN, United States
Summary
Brandon Knox is a highly accomplished real estate professional based in Nashville, Tennessee. He is the Managing Partner of The Knox Team at Compass RE Nashville, which is the leading real estate sales team in Nashville specializing in boutique new developments, land acquisition, and infill new construction homes. With over 1500+ real estate transactions closed and more than $600,000,000 in volume, Brandon has established himself as a top realtor in Nashville. He has represented dozens of Nashville's top builders throughout middle Tennessee, and is a repeat GNR (Greater Nashville Realtors) lifetime "Diamond Elite" sales award winner, the highest honor given in Nashville. Brandon has also been recognized as a top 100 realtor in America based on 2020 transaction sides.
Before joining Compass RE in June 2019, Brandon worked as the Operating Partner of The Knox Team at Keller Williams and as the Managing Partner at Zeitlin Sotheby's Realtors, where he achieved unparalleled success throughout his tenure. Prior to his career in real estate, Brandon lived and worked in New York City for 13 years, where he was the managing broker of The Knox Team at The Corcoran Group, the #1 luxury real estate firm in NYC, and sold over $100,000,000 in real estate during his time there.
Brandon was born and raised on a horse ranch just southwest of Austin, Texas, where he grew up in a family of real estate entrepreneurs and learned about house flipping, property management, development, and homebuilding from a very young age. He holds a BS in Business Entrepreneurship as well as an AS in Acting for film & television. In addition to his real estate work, Brandon is also the owner of L.A.N.D. Group, LLC, a Nashville-based investment group that partners with regional builders and developers on boutique new construction projects. The LLC has participated in successfully entitling projects all across middle TN.
With an impressive and diversified background, Brandon Knox is a highly sought-after real estate expert with a wealth of experience and knowledge in the industry. He is passionate about helping clients achieve their real estate goals and is committed to providing unparalleled service and expertise.
Info
This public profile is provided courtesy of Clay. All information found here is in the public domain.