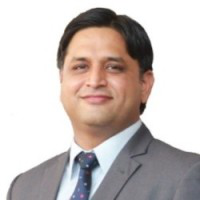 Avinash Chandra
Gurgaon, Haryana, India, India
Summary
Avinash Chandra is a seasoned marketing professional and internet entrepreneur with over 20 years of corporate experience working with multinational companies. He has an MBA in Marketing from the Management Development Institute and a degree in Mechanical Engineering from Bhopal University. Chandra has managed business P&L and large marketing teams in both B2B and B2C companies, and has served as the former Head of Marketing at Opple Lighting and Marketing Head for South Asia at INVISTA. He is the current Founder and CEO of BrandLoom Consulting and has spoken at various industry events, including CII, FICCI, CITI, and ASSOCHAM.
Highlights
May 3 · Via Twitter
Join me in making a difference and creating sustainable websites.
Let's protect Mother Earth together! 🙌🏼🌍 https://t.co/iMxCDaAhNK
May 3 · Via Twitter
Info
This public profile is provided courtesy of Clay. All information found here is in the public domain.