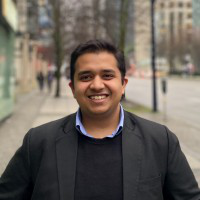 Arth Gupta
Greater Toronto Area, Canada, Canada
Summary
Arth Gupta is a definite optimist with a diverse and impressive professional background. He is a graduate of The Doon School, where he studied the IB Diploma, and The University of British Columbia, where he earned a Bachelor of Arts degree in Philosophy and Economics. Arth has worked in various capacities, including as a Product Growth specialist at Deep Spatial AI, an Equity Research Analyst at Equity.Guru, a Consultant at Strategy Consulting Initiative, a Market Research Analyst at Time Auction, an Associate Consultant Intern at L.E.K. Consulting, and an Intern at HORA, among others. He has also worked as a Junior Editor at News Mobile and a Summer Intern at Governance Now.
Arth's expertise and interests lie in product growth, equity research, strategy consulting, market research, and editing. He has experience in AI, sustainability, fintech, and healthcare, among other industries. His professional skills include data analysis, market research, project management, team leadership, strategic planning, problem-solving, and communication.
Info
This public profile is provided courtesy of Clay. All information found here is in the public domain.