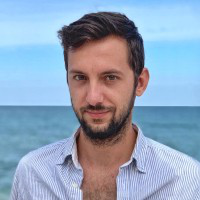 Andrei Lasc
Bucharest, Bucuresti, Romania
Summary
Andrei Lasc is a multitalented creative director, copywriter, and graphic designer with a strong background in math and programming. After studying publicitate (advertising) at SNSPA and earning a bachelor's degree in communication and media studies from Universitatea Alternativă, Andrei embarked on a dynamic professional journey, working in various positions across different organizations.
Andrei began his career as a freelance graphic designer for CROS - Centrul de Resurse pentru Organizatii Studentesti and then as a PR intern at GolinHarris Bucharest. He went on to serve as the Vice President and Marketing Manager at ASER and then as a Project Manager for Ghidul Studentului Economist, a publication by ASER.
Andrei's artistic skills and technical mindset led him to explore branding and marketing, and he became a Marketing Executive, Graphic Designer, and Brand Manager at Bookster, a startup that helps university students find affordable textbooks. Later, Andrei worked as a Creative Director and Project-Based Creative Director at Bookster and Cu Substrat Advertising, respectively. Currently, he serves as the Creative Director at Mind Education, where he creates innovative communication methods for various clients.
Andrei's expertise in Adobe Suite and his analytic problem-solving approach have earned him acclaim from clients, including How To Web, FruFru, BCR, Silva, Bosch, Bittnet, Zitec, and others. Throughout his professional journey, Andrei has remained a curious learner, continuously growing and honing his skills.
Info
This public profile is provided courtesy of Clay. All information found here is in the public domain.