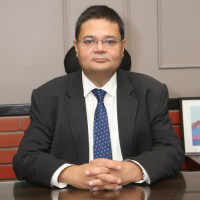 Amit Dutta
Gurgaon, India, India
Summary
Amit Dutta is an entrepreneur turned venture capitalist with a successful track record in product innovations, transforming brands, and building powerful brands such as American Express, GM-Chevrolet, Reliance Wireless, Quintessentially Lifestyle Services India, and Teamonk Global. He made the transition to venture capital in 2018 by joining Hunch Ventures, which focuses on investments in core sectors such as health, lifestyle services, media, emerging technology, co-working, food & beverages, and logistics. Hunch Ventures recently launched Blade India, pioneering the launch of by-the-seat short haul urban air mobility services in a market with the most congested cities globally. Dutta led the partnership with CII for establishing an "Accelerator for Startups" at their co-working space in Gurugram, The Circle.Work.
Dutta has over 21 years of experience in reputed corporates in Category Management, Marketing, and Sales, leading large cross-functional teams, and managing P&L across various product and service categories. He studied ISC at La Martinere, Calcutta, ICSE at St. Pauls School, Darjeeling, B.E (Hons), Civil Engineering at Jadavpur University, and PGDM, Marketing & Finance at Indian Institute of Management, Lucknow.
Dutta co-founded Luxury Hues Consulting in 2009, offering Reward & Privileges platforms to corporates, banks luxury automobiles to engage their affluent & high spending customers. In 2010, he founded Quintessentially Lifestyle Services India, the exclusive franchise holder of Quintessentially, founded in the UK in 2000 as a private members club and concierge service. The network is in over 70 cities worldwide. He co-founded Teamonk Global, offering 100% pure and natural specialty teas to consumers in India and international markets through an omni-channel platform. Their unique signature tea experiences are created exclusively by tea connoisseurs.
Dutta co-chairs the CII Task Force on Luxury, and he is a member of the Steering Committee of CII Future Business Group. With his diverse background and vast experiences in entrepreneurship, branding, luxury services, and venture capital, Amit Dutta is undoubtedly a force to reckon with in the business world.
Info
This public profile is provided courtesy of Clay. All information found here is in the public domain.