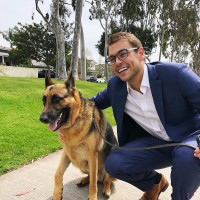 Adam Ashwal
New York, New York, United States, United States
Summary
Adam Ashwal is a successful entrepreneur, data scientist, and NLP engineer with an impressive educational background. He studied at the University of Southern California Viterbi School of Engineering and later earned a degree from the University of Southern California Marshall School of Business. Ashwal is known for his professional expertise in the fields of data science and NLP engineering. He has held several key roles in his career, including as CEO and founder of Transistor Bio, Lead Data Scientist at Curative Inc., and NLP Engineer and a founding team member at Volley. Previously, Ashwal developed his skills as a founder and developer at Interwound Software. His educational background and professional expertise have helped him pave a path of success in fields such as artificial intelligence, software engineering, and data science.
Highlights
Oct 27 · Via Twitter
Oct 27 · Via Twitter
Info
This public profile is provided courtesy of Clay. All information found here is in the public domain.